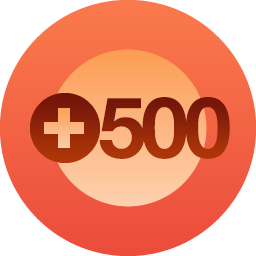 Congratulations on getting 500 total follows!
This week I was surprised and found that this blog has reached 500 plus follows! This is such amazing news.
I am not sure of how this happened? Especially considering the fact that I am not some great writer, just an ordinary woman being myself….lol! When I started this blog I had in mind just to share and write passionately about my romantic love affair with various Hindi soaps such as "Saath Nibhana Saathiya" and to share my thoughts on "Gopi, Ahem and Kokila" of the show and about my favorites of Bollywood movies like" Veer-Zaar" and "Kahbi Alvida Naa Kehna" and many others. I wanted to write about some of my favorites of Indian actors and actresses such as SRK and Rani and many others. And in between writing about all of that….. I get a chance to sneak in a few bits about my simple, quiet life with my amazing husband and our experiences of how life has changed for us from living in the city compared to now living in the deep south (the woods/country) and about our outdoor pets, the 12 or more cats (and their numbers are steady growing, but I believe my neighbor is selling the baby kittens out from under us as soon as they are born and so it upsets me a bit because I want to keep them all here with us, lol) and about the two dogs.
So it's my dream and if God be willing that we keep moving things along and eventually buy a chicken house and fill it with a few baby chicks for eggs and perhaps to creating a little McDonalds farm here (a quack, quack here and a quack quack there, lol!) once my husband totally gives up working all together so our energies can go into it. I wish for us to grow more vegetables and set out various fruit trees and to have a few goats. Initially I wanted a cow but they must be milk-ed way too much so a goat it shall be.
I also enjoy sharing some of our favorite Indian style recipes, our everyday recipes and about my battle for better health, weight loss, pampering and a little about my spirituality. I know that's a lot to put into just one blog. Anyway I am forever growing and changing.
So thank you so kindly for stopping by even when some have no clue as to what I am writing when it comes to my Hindi soaps and Bollywood movies love affair.
Thanks to word press and all who follow. I appreciate you so much and …..Have a Great Delightful Day!